The Evolution of Sales & Marketing Strategy in a Post-Pandemic World
Get access to the webinar that shows you the steps you need to take for your business to thrive in the post-pandemic environment.
Fill Your Pipeline, Shorten Sales Cycles & Get Huge Returns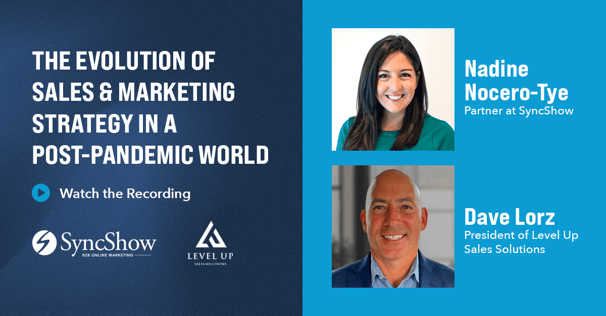 Right now, B2B business leaders are asking more from their marketing and sales teams than ever, but it's also more difficult than ever for those teams to deliver. The business environment is already risk-averse, fearing a recession. The shift to remote work has hampered the effectiveness of traditional sales tactics. And high turnover rates have made it difficult to keep lead contact info up to date. So where do you even start?
On June 23, 2022, during the Evolution of Sales & Marketing webinar, Nadine Nocero-Tye and Dave Lorz showed B2B business leaders exactly where: by aligning marketing, sales and operations.
This webinar was jam-packed with invaluable insights businesses can use to fill their sales pipeline with leads and maximize returns. And now, you can get full access to the webinar on-demand. Watch the full event, and you'll learn…
What you need to do to align your sales, marketing and operations teams.
How marketing and sales can work together to attract qualified leads and drastically shorten sales cycles.
How you can connect and engage with remote buyers to convert them.
To access the Evolution of Sales & Marketing webinar, fill out the form on this page.