BudgetEase's part-time bookkeeping services provide a solid financial foundation and judicious oversight to make Northeast Ohio companies more profitable. As certified QuickBooks professionals, the professional services company offers setup, training and periodic review services to supplement its core bookkeeping services. Leaders of organizations—from small businesses to nonprofits—put their trust in BudgetEase to manage the bookkeeping details so they can focus on what matters most to them and grow their businesses.
AN UNGUIDED APPROACH
In 2014, BudgetEase was relying solely on social media to generate interest for its services online. At the time, a marketing consultant was guiding their social media marketing tactics, but the BudgetEase team was expected to execute the plan itself, taking time away from important initiatives such as servicing and growing its client base. After learning about SyncShow's digital marketing services, BudgetEase felt the inbound marketing approach was a better fit for the company's needs.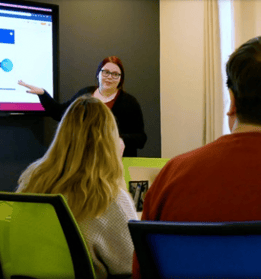 "
SyncShow drives the ship. I am on the crew and have limited responsibility.
"
—Kathy Dise, president, BudgetEase
A STRATEGIC APPROACH
In order to grow the business, BudgetEase needed to attract small business owners and nonprofits in Northeast Ohio that were in need of recurring, part-time bookkeeping services. The challenge was driving local, qualified traffic to BudgetEase's website and getting a tracking system in place to gather the data needed to make strategic decisions moving forward. Kathy Dise, president of BudgetEase, worked with the SyncShow team for two in-depth strategy sessions to uncover the company's needs and provide the foundation for the entire inbound marketing campaign.
Since working with SyncShow, BudgetEase has:

A CONSISTENT RHYTHM
The strategic plan created by SyncShow included:
Defined buyer personas and messaging that speaks to those target personas on the company's website
Content to be used in the buyer's sales funnel process—including checklists, guides and case studies—that provides website visitors valuable information as they're researching
A social media presence that showcases BudgetEase's thought leadership on LinkedIn, Twitter, Facebook, YouTube, and Google+.
An ongoing B2B email marketing campaign to share valuable content and build relationships with prospective clients and referral sources
Once the plan was created, the second challenge was sticking to it.
SyncShow provided a process that made it easy to continuously make progress. Regular checkins and strategic conversations between the two teams were critical elements to the success of the inbound campaign. Additionally, the content plan made it easy to prioritize the work.
"Today, digital is one of the top sources of leads for BudgetEase, and the percentage of digital customers continues to grow each year," Dise said. "Having visibility into the source of leads and their online activities allows for continued campaign adjustments and future successes. Social media is changing rapidly. My guess is that what I am doing today will change by the end of next year. Are you going to adjust to the changes?"
ABOUT SYNCSHOW
SyncShow is an online marketing agency committed to helping growth-oriented professional services organizations fill their sales pipelines and grow. Using processes that are proven to drive results, we help companies increase brand awareness, authority and quality leads. Contact us today so we can help you develop a plan to solve your organization's greatest challenges. Schedule a discovery call today.