One-of-a-Kind, Proven Strategies That Drive Profitable Growth
How can you expect to increase sales if your marketing and sales teams are not aligned? When sales and marketing work together, great things happen. SyncShow is passionate about helping businesses with their sales and marketing alignment needs, implementing proven digital marketing and communications strategies that drive growth in the most efficient way possible.
To ensure your sales and marketing efforts are working together, we:
Define sales and marketing goals to track your return on investment
Provide valuable insights into your sales performance
Study your website traffic, conversion rates and the quality of your online leads
Create a digital inbound marketing strategy to improve your metrics
Help you become a thought leader within your industry
We partner with top-notch marketing technology companies that will contribute to your success. As HubSpot Platinum Partners, we get access to exclusive support, software and training, meaning we can do more than simply provide you with a highly functional website with the latest features. We can provide a website that attracts visitors, converts them into leads and provides information to leads at every stage in the buyer's journey.
If you're ready to overcome your sales and marketing challenges, fill out the form and let's talk.
Honors and Awards:

Technology Partners: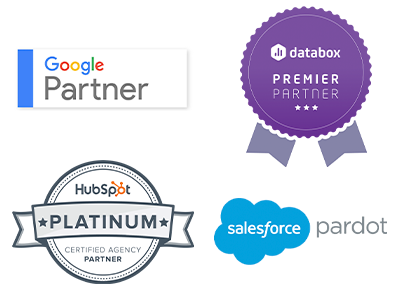 Locations: