Digital Marketing Strategy for Exponential Results
A.C.T. Dust Collectors has come a long way in a few short years. Thanks to its expanded digital presence, the manufacturer has seen a massive increase in qualified leads and closed customers. In fact, in one campaign year, A.C.T. closed 65% more customers than it did in their previous campaign year. But make no mistake, these results didn't happen overnight.
About four years ago, A.C.T. approached SyncShow to strengthen its digital marketing strategy. To achieve this, SyncShow first set up the digital marketing foundation that delivered some quick wins, netting A.C.T. a 30% increase in pageviews within the first three months.
As A.C.T. continued to work with SyncShow, these results compounded. Using site visitor data, SyncShow optimized A.C.T.'s site and marketing strategy to increase traffic and conversion rates, which in turn, multiplied the number of qualified leads coming down the pipeline.

Company Bio: A.C.T. Dust Collectors manufactures industrial dust collectors that not only clean the air but also improve working environments, increase employee retention and improve efficiency. A.C.T. offers a wide variety of machines to fit almost any need and environment.
Year 1: Laying the Groundwork & Delivering Quick Wins
The Challenge
When A.C.T. first approached SyncShow, the manufacturer knew it had a stellar product. Its dust collectors were efficient, rugged and could reduce equipment maintenance costs for its clients. However, A.C.T.'s brand awareness in the space was lacking.
A.C.T. needed to position itself as a leader in industrial dust collection, and to do that, the company needed a larger digital presence.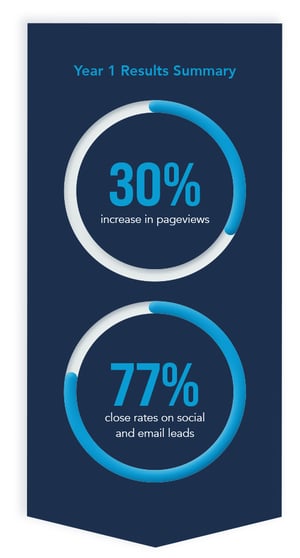 SyncShow's Solution
SyncShow outlined an inbound strategy that would hit on multiple fronts:
Content Creation
Search Engine Optimization (SEO)
Social Media Marketing
This was executed in tandem with continued strategic analysis and monthly reports that tracked A.C.T.'s progress.
Year 1 Results
A.C.T.'s on-site optimizations and new keyword-optimized blog posts led to its first quick win: a 30% increase in pageviews in the first quarter. Seeing this, SyncShow developed a six-month SEO plan to double down on A.C.T.'s organic success, leading to an even larger increase in pageviews.
While A.C.T.'s SEO foundation was laid, social media strategies and email campaigns drove leads that crushed the organization's goals. In fact, these leads saw an average close rate of 77%, showing that these marketing efforts had pinpointed A.C.T.'s target market.
Year 2: Expanding A.C.T.'s Digital Presence
The Challenge
With its digital marketing foundation laid, it was time to further improve upon these efforts. But in order to do that, A.C.T. and SyncShow needed a better way to track results.
Up until this point, poor tracking of website metrics had capped the full potential of A.C.T.'s digital marketing efforts. To overcome this issue, SyncShow fully migrated A.C.T.'s website over to HubSpot, giving the manufacturer the data it needed to pinpoint where online leads were coming from.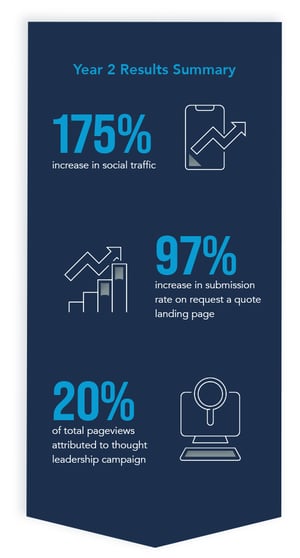 SyncShow's Solution
SyncShow optimized every conversion point to maximize results, which involved:
Overhauling webpage design to increase form submission rates
Experimenting with different website calls-to-action (CTAs) to find the language that delivered the best results
Creating a strong thought leadership campaign using the company's blog, and distributing and promoting that content via social media channels
Year 2 Results
A.C.T. saw improved lead generation conversion rates and more proposal opportunities. Its thought leadership campaign alone accounted for 20% of the total pageviews on the site. Keyword ranking also improved for multiple target keywords. And on top of all that, social traffic increased by 175% by leveraging the valuable content SyncShow created.
Year 3: How It All Came Together
The Challenge
By year three, A.C.T. had everything in place to see continued growth. With a following across multiple digital channels and a system bringing qualified leads down the funnel, the challenge was determining what to optimize for the best return on investment (ROI).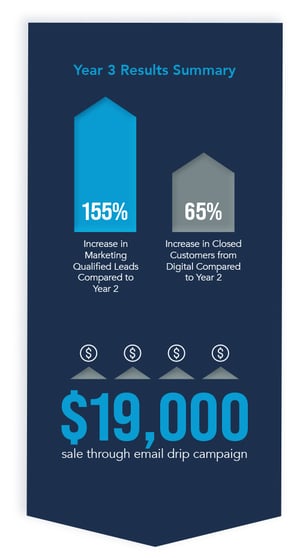 SyncShow's Solution
The time was right to set big goals. To hit them, SyncShow continued to craft more valuable content and further optimize marketing funnels. SyncShow particularly focused on optimizing the conversion rates of email drip campaigns, which had already seen solid returns.
Year 3 Results
Even though SyncShow set stretch goals for Year 3, almost every goal was exceeded:
Average monthly sales qualified leads (SQLs) were double what they were the previous year
September alone had more sales qualified leads than A.C.T. had in all of Year 2
An email drip campaign brought in a $19,000 sale for the company
These massive successes gave A.C.T. full confidence in SyncShow's ability to drive incredible results through its ROI-focused digital strategy.
Year 4 & Beyond
A.C.T. continued to profit from its relationship with SyncShow. Thanks to new SEO and dedicated PPC efforts, A.C.T. saw more growth in organic traffic and leads, leading to more huge sales. For instance, PPC efforts led to an $18,900 sale to a prominent space exploration company.
Today, SyncShow still plays a major role in A.C.T.'s growth, helping the company target new markets and maintain its focus on content, SEO, social media and conversion rate optimization (CRO).
Massive ROI Achieved Through Steady, Strategic Approach
After a quick glance at the numbers, it may seem like A.C.T.'s digital marketing success happened overnight. However, the real story is that the massive ROI A.C.T. has seen requires a steady and strategic approach. Starting with a strong foundation, the best results come from a culmination of efforts taking place over years.
"We are thrilled with the growth of A.C.T. Dust Collectors. SyncShow's professional team has exceeded our expectations with well thought out digital strategies that have significantly increased our leads, conversions, and overall organic presence."
- Lisa Frank, Marketing Specialist
About SyncShow
SyncShow's team of dedicated marketing professionals has laid the foundation and built effective digital marketing campaigns for dozens of B2B manufacturers like A.C.T. Its strategies deliver a proven 10x ROI on marketing spend, backed by data.
Learn how SyncShow can grow your business. Schedule a discovery call today.