THE CHALLENGES
Marketing a professional services firm can be a challenge. Rather than selling a product, the focus has to be on the value that is provided from the service. Meaden & Moore knew it needed to digitally market its most valuable asset— its people—in a forward-thinking way.
The professional services firm had an internal marketing team, but their knowledge of online marketing was limited, and they knew they wanted to work with an online marketing agency that could provide the strategic guidance they needed. They were also aware that their existing online presence, including their website and social media channels, could be greatly improved to drive new, qualified opportunities and increase brand awareness.
These were the challenges Meaden & Moore brought to SyncShow in 2012 when they decided to hire the online marketing agency as a vendor to support their internal team.

Company Bio: For more than 100 years, Meaden & Moore has provided accounting, business and financial services to businesses and individuals. Their expertise ranges from being a leader in the forensic and investigative accounting field to specialties that provide advisory services at the corporate and individual levels, locally and globally.
THE SOLUTIONS
A Website to Successfully Market Meaden & Moore Team Members
The relationship between Meaden & Moore and SyncShow began with a website overhaul. The goals of the new website included:
Putting online marketing best practices in place that would drive and capture qualified website traffic
Showcasing the expertise of Meaden & Moore's team members to demonstrate to current and prospective clients that the firm is people-first and focused on relationship building
Positioning Meaden & Moore as a thought leader in its industry
A Blog to Successfully Showcase Meaden & Moore's Expertise
The digital marketing program began with a specific focus on the tax planning & compliance services division of the company. A thought leadership blog was created as part of the new website and a long-term content creation plan was developed at the direction of SyncShow. This would be the digital space where Meaden & Moore could showcase its team members while demonstrating its knowledge of best practices, trends and news in the industry.
Meaden & Moore was an early adopter of blogging as an online marketing strategy and its internal team's commitment to the initiative made all the difference for them.
Thought-leadership articles—authored by key Meaden & Moore experts and optimized by the SyncShow team—were published on a regular and frequent basis. The next step was to promote the content to drive qualified traffic to it. This was done primarily through:
Social media, specifically LinkedIn: After each blog article was published, social messages were released on behalf of Meaden & Moore, as well as individual team members, which increased their personal brand.
Email marketing: Emails highlighting content pieces that both current and prospective clients would find valuable were sent.
Blog subscription: Once the Meaden & Moore audience realized the value in the blog articles that were being published, a groundswell of people subscribed to the blog so they would be alerted each time a new article was published.
"We have been working with SyncShow for over seven years, and our experience with them has been very positive! Their team is extremely knowledgeable, organized and responsive. I feel like they truly care about our company and want to see it succeed as much as we do."
– Michelle Ondrey, Marketing Manager, Meaden & Moore
THE RESULTS
Not only did the data show how successful Meaden & Moore's online marketing program was, but there were significant qualitative results that were just as, if not more, important.
Metrics
Meaden & Moore saw a significant increase in website traffic: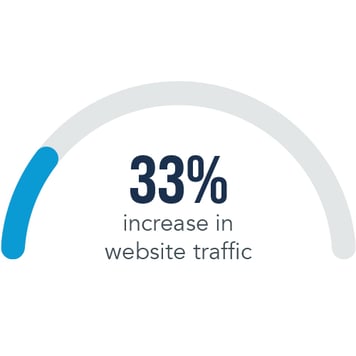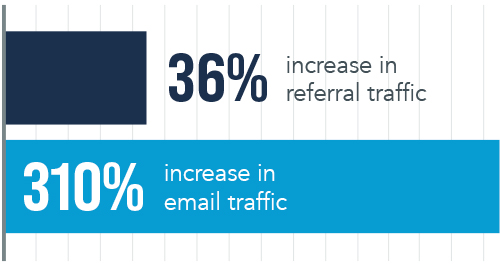 Social media interactions increased substantially: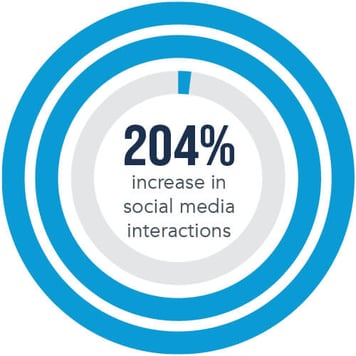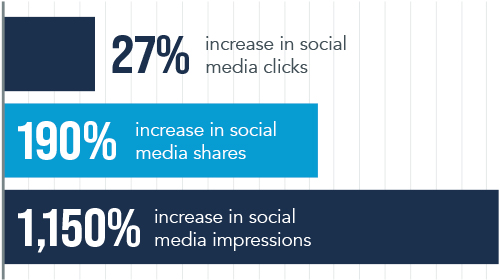 This data demonstrates the impact the online marketing program had on improving Meaden & Moore's brand awareness. In addition, the blog has had hundreds of subscribers since it was launched in 2012. The high number of subscribers proves that the audience finds the content valuable and worthy of engaging with.
Culture
Meaden & Moore was able to achieve great success with its online marketing program because there was internal buy-in to the strategic plan. Creating quality thought-leadership content was possible because it was coming from the experts who knew it best—the Meaden & Moore team members. The initiative started in the marketing department and trickled down into the rest of the organization, where it remains an integral part of the culture today. And getting that employee buy-in was the first step to carrying out any organizational structural change.
In addition, educating the entire team about social media played a large part in getting the employees on board with sharing content on their behalf. When what you're marketing is your people, the importance of building relationships, digitally or in-person, cannot be underestimated, and the use of social media as an online marketing strategy helped achieve this.
A Transformation from Vendor to Strategic Advisor
After seeing the impact the online marketing program had on the tax planning & compliance services division, SyncShow and Meaden & Moore began having conversations about integrating into additional divisions of the organization. This is when Meaden & Moore started to see SyncShow as more than just a vendor—they had truly become a strategic advisor.
Custom online marketing plans were created for the investigative & forensic accounting and enterprise resource planning consulting divisions of the firm, where successful results continue to be seen to this day. In 2020, SyncShow helped Meaden & Moore create and implement a refreshed website in order to develop a compelling, efficient and highly-targeted user experience for website visitors. The new site:
Integrates Meaden & Moore's content more consistently throughout
Acts as a conduit for increased lead generation success
Positions Meaden & Moore as a trusted and credible advisor
SyncShow has gone beyond simply providing an online marketing strategy and now gives insight across all levels of Meaden & Moore's company structure, including its international arm. Examples include multi-language websites, microsites, 100-year anniversary celebrations and continued education logistics via marketing tools. As the company continues to grow, so too does the relationship between SyncShow and Meaden & Moore.
"The SyncShow team has been great to work with! They are extremely knowledgeable and are always up to date on new trends. They continuously bring new ideas and strategies to the table, and we truly enjoy working with them."
– Sarah Orlandi, Marketing Assistant, Meaden & MooreAbout SyncShow
ABOUT SYNCSHOW
SyncShow is an online marketing agency committed to helping growth-oriented professional services organizations fill their sales pipelines and grow. Using processes that are proven to drive results, we help companies increase brand awareness, authority and quality leads. Contact us today so we can help you develop a plan to solve your organization's greatest challenges. Schedule a discovery call today.