Synchronizing Sales & Marketing For More Profitable Growth
Business relationships start with communication. But where does that communication happen and what does it look like? That all depends on a number of factors, but who your buyer personas are plays a big role. In short, a buyer persona is a fictional, generalized representation of your ideal customer or prospect that helps you understand who your target customer is and how you can best interact with them. And regardless of who your buyer personas are, they're all online somewhere—yes, even B2B buyers. Let us find them for you.
SaleSync™ is a strategic process that defines your goals, aligns your sales and marketing efforts and measures return on investment. It starts with an analysis of your current marketing and sales environment and ends with a 12-month inbound marketing gameplan that includes:
Detailed profiles of your top three buyer personas, complete with pain points, goals, objectives, where they can be found online and the ideal marketing messages that will appeal to them
Mapped-out buyer's journeys that illustrate how we're going to convert these ideal buyers from website visitors to qualified leads ready for your sales team (SQLs)—this includes detailed recommendations about content formats and topics that will apply at each stage of each buyer's journey
Competitor analysis
Search engine optimization/keyword research
A 12-month execution calendar and key performance indicators (KPIs)
What is SaleSync™?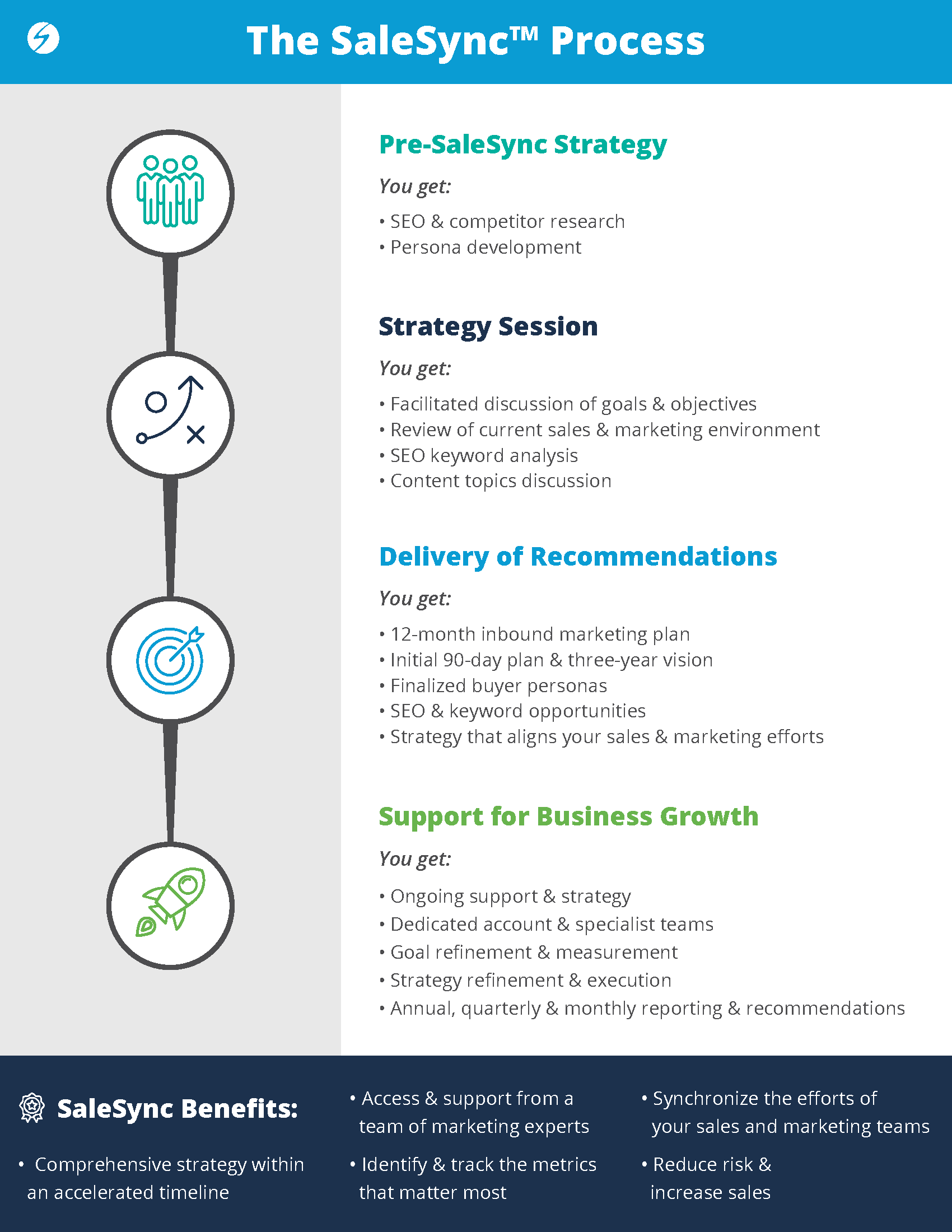 From beginning to end, SaleSync™ is a four-week process that ends with an in-depth presentation of our recommendations. If you're looking for a new and/or improved website in addition to a marketing plan that generates quality leads and brand awareness, the SaleSync™ and WebSync™ strategic processes will work alongside one another.
Stage 1 - Strategy Session: A full day is set aside for an in-person strategy session, during which our team gives you an overview of inbound marketing, learns about your current sales and marketing environment, gets to know who your best customers are and begins strategizing with your sales team.
Stage 2 - Needs Assessment and Planning: We leverage everything we learned in the strategy session to generate an inbound marketing strategy—the purpose of which is to produce quality leads for your sales team.
Stage 3 - Recommendations: This second face-to-face meeting is a presentation of our recommendations and various engagement opportunities.