Optimizing Websites For Market Performance
If you have a website, chances are it's making a far greater number of first impressions than your sales team or any other marketing effort. Unfortunately, some websites make bad first impressions, costing companies sales and future prospects.
Today, a company should think of its website as one of the most important members of its marketing team.
Every page of your website should have a strategy aligned with your goals. WebSync™ is our proprietary process for building websites strategically. Beyond the online brochure, your website must provide a function and an experience for visitors. Honed for over 16 years, WebSync™ kicks off with a day-long process coupled with intensive research on our part designed to accelerate the discovery period. Unlike other agencies that charge a consulting fee to kick off the relationship and "get to know you," WebSync™ is geared to deliver maximum value for your website development initiative.
Some of the benefits to our clients include an overall reduction in development costs, an accelerated process and a reduction in risks related to unknowns.
With WebSync™, you're provided:
Detailed profiles of your top three buyer personas, complete with pain points, goals, objectives, where they can be found online and the ideal marketing messages that will appeal to them
A sitemap, or outline of all site web pages and how they fit together
A detailed keyword analysis, or which words and phrases we can help your company rank highly for in search engines, which will help determine how we're driving ideal prospective buyers to your site
Two creative themes, including design-element and messaging options, that will help best position your brand online
Detailed web page layouts with requirements that explain what each page on your site needs to communicate and how that information should be displayed
Site engagement scenarios that map out what website features and content will address the key pain points of your buyer personas
A website project calendar and engagement options
Detailed on-site and search engine optimization (SEO) assessments
What is WebSync™?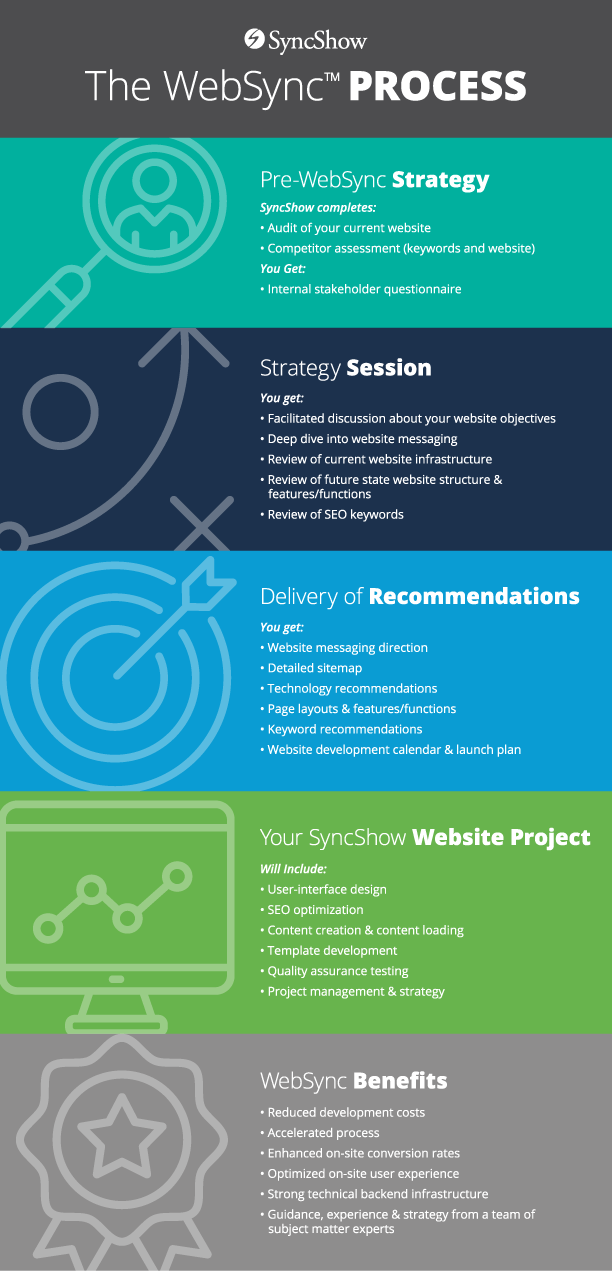 When selected alongside SaleSync™, WebSync™ has the potential to transform your website and optimize your market performance. But even chosen separately, WebSync™ guarantees your website will give the right visitors a professional, on-brand first impression of your company.
Stage 1 - Strategy Session: During a half- to full-day, in-person meeting, we'll walk through the goals you have for your new website, review your site's current state, talk through branding and design opportunities and have an open discussion about best practices.
Stage 2 - Needs Assessment and Planning: Your website requirements and wants will be used in conjunction with industry best practices to give you an optimally functioning website that clearly looks and sounds like your company and elevates its online presence. During this stage, we take the time to plan it all out.
Stage 3 - Recommendations: As a follow-up to the initial strategy session, we provide the comprehensive set of website recommendations, which are bulleted above.