A family-owned business, Mckinney is known for its professional service and large inventory of well-maintained, reliable trailers. Unfortunately, this alone didn't make Mckinney's website effective.
Mckinney leadership knew something needed to change, so they reached out to SyncShow for help. With a proven history of driving ROI for B2B transportation companies, SyncShow turned Mckinney's website into a lead generation machine.
Mckinney's website overhaul led to 109x more leads being generated over six months when compared to the same six months of the prior year. This drastic increase was the result of:
Creating strategic website brand messaging centered around customer pain points
Implementing a search engine optimization (SEO) strategy to increase website traffic
Adhering to conversion rate optimization (CRO) best practices to improve website experiences and capture qualified leads at scale

Company Bio: Since the early 1990s, Mckinney Trailer Rentals has supplied high-quality semi-trailers to companies throughout the United States. The company has consistently remained a leading provider of trailer equipment for rent, lease or sale and boasts a diverse fleet of over 35,000 trailers.
The Challenge: Increase Qualified Traffic & Leads
Mckinney's primary goal was to drive more leads through its website, but the company's website was lacking in several key areas.
Website messaging didn't capture Mckinney's unique value proposition.


There were no high-quality content assets to attract prospects through search and other marketing channels.


There wasn't a lead nurturing strategy that leveraged marketing and site visitor data to optimize leads and accelerate sales efforts.


Website design was dated and provided a poor user experience.
All this together made a full website overhaul the best approach. To build a roadmap to success, Mckinney participated in SyncShow's proprietary WebSync strategy session. Following the session, SyncShow was able to provide a clear outline for how Mckinney should position itself, as well as a detailed plan showcasing how SyncShow would help Mckinney achieve their goals.
SyncShow's Solution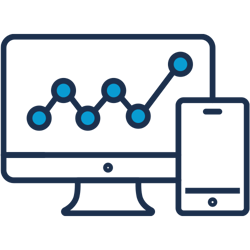 WebSync™: SyncShow's strategic framework for website development that delivers clients sites designed for scalable lead generation. WebSync includes an intensive research and strategy process that helps SyncShow craft brand messaging that speaks to customer pain points and positions clients' businesses as the solution to those problems. It also includes fact-finding and research that ensure SyncShow websites are always built starting from a strategic blueprint.
Identified Mckinney's Universal Brand Message
As a part of WebSync, SyncShow sat down with Mckinney leadership to craft website messaging that resonated with the transportation company's target customers. As a StoryBrand certified guide, SyncShow ensured messaging engaged and converted prospects by focusing on their problems and positioning Mckinney as the solution.
Improved Website User Experience
To improve Mckinney's website experience, SyncShow created page layouts that promoted site usability. The layouts were focused on lead generation and designed to make the site both visually appealing and easy to navigate.
Optimized Site for Lead Capture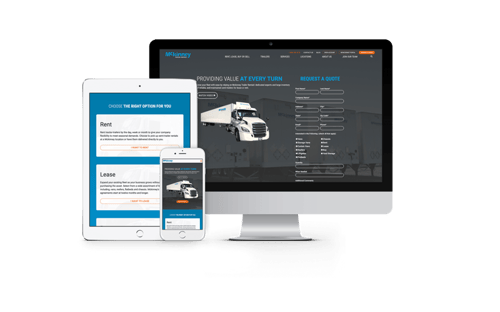 SyncShow then optimized Mckinney's website to increase traffic and capture qualified leads, which included:
A New Site Structure - A streamlined site structure supported user experiences and ongoing content marketing efforts.


SEO Improvements - The site was built to follow Search Engine Optimization (SEO) best practices for technical health. Pages included targeted keywords used by Mckinney prospects, bringing relevant traffic to the site.


Relevant Thought Leadership - SyncShow developed thought leadership content to publish on Mckinney's site and social media channels, increasing brand awareness and organic reach.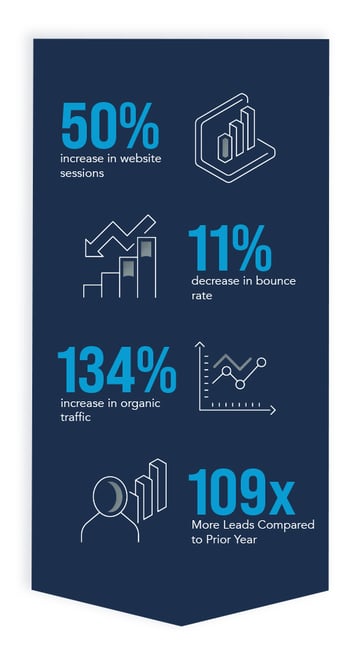 The Results
Within the first year, Mckinney's new and improved website increased website sessions by 50%. While this was happening, the site's bounce rate decreased by 11%. This meant that there were not only more site visitors, but that those visitors were also the right visitors who were interested in Mckinney's services.
Organic sessions increased by an even larger percentage. Compared to the previous year, organic traffic increased by 134%, while the rest of the industry only saw a 5–20% increase.
By the end of the new website's first year, Mckinney had beat its lead generation goal for the year by 105%.
After seeing these results, Mckinney continued to work with SyncShow, knowing that SEO and CRO are things that require continued maintenance and continuous improvements. This partnership then led the company to see 109x more leads in six months compared to that same time period the year before.
"SyncShow is an amazing partner to Mckinney Trailer Rentals. They have brought our online presence to new heights and become an integral part of our team. Little did we know when we started this journey a few years ago that the pandemic and subsequent supply chain issues would change the way we do business. Fortunately for Mckinney, SyncShow has been by our side, adaptable to change and ready to make strategic moves when necessary."
About SyncShow
SyncShow is the best ROI-driven agency for transportation and logistics organizations. Its groundbreaking Great Eight Pillars of ROI-driven marketing has proven to deliver 10x ROI on marketing spend, backed by data.
Learn how SyncShow can grow your business. Schedule a discovery call today.