There are many different ways that you can publish to a social media site. You may go directly to the site and publish straight from there or you may use a tool such as HootSuite or TweetDeck. Here at SyncShow, we use HubSpot, a marketing automation tool, to schedule and publish all of our social posts. Below, are some of the benefits of using HubSpot over another tool, plus general best practices for social media publishing.
Benefits of HubSpot Over Other Social Media Tools
With the social publishing tool, you can manage your Facebook, Twitter, LinkedIn and Google+ social channels all in one place, allowing you to:
Socially promote your content on some or all of your social channels at different times throughout the day
Easily promote HubSpot-hosted content such as blog posts, landing pages and images
Track your social engagement to see how your posts performed
Have a one-stop shop for all of your digital assets – not only does HubSpot host your social media, but also your blog, email, contacts, and downloadable content
Social Media Best Practices
Tips for Posting on Facebook
Types of content to post: Pictures of your team, Company announcements, Blogs
Include a relevant image or video
Include any applicable hashtags, so your content is grouped with similar content
To "tag" a person or company in your post, type the @ symbol, followed by their name and Facebook will automatically bring up a list of people and companies you can select from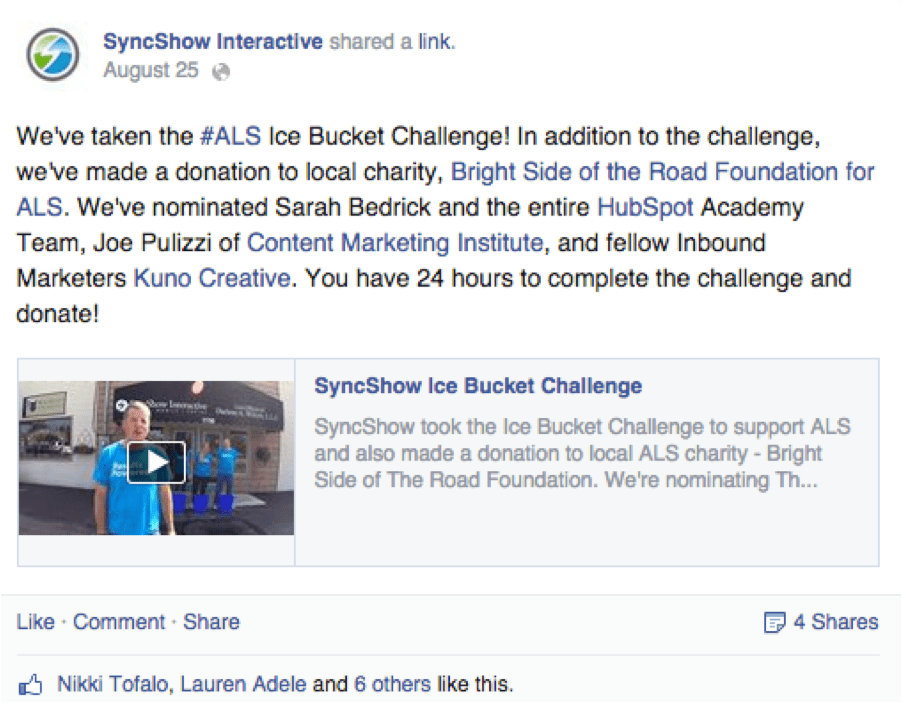 (check out another blog post, "5 Simple Tips to Increase Social Media Engagement on Facebook" for more tips)
Tips for Posting on Twitter
Types of content to post: Industry articles, Blogs, Videos
Include 1-2 relevant hashtags
Pay attention to the character count. Tweets can be up to 140 characters, so leave enough room for the link you want to include.
Attach an image. Posts with images stick out more than text-only tweets, as seen in the image below.
Post multiple tweets at different times to ensure your target audience sees your message.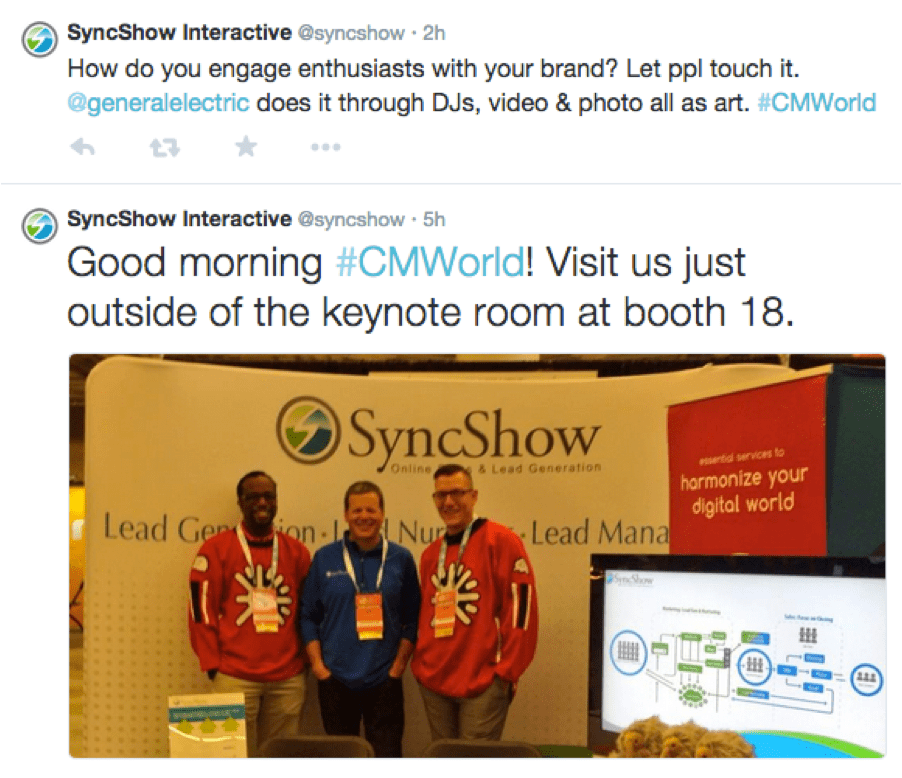 Tips for Posting on LinkedIn
Types of content to post: Job postings, Company newsletters, Product updates, Blogs
Do not include hashtags in LinkedIn posts. This functionality was removed from LinkedIn in 2013 and hashtags no longer get hyperlinked when you include them.
Keep in mind there is a difference between posting in a LinkedIn Group or

on a personal or company LinkedIn page

.


Groups require you to write a title and a post. Make sure your titles are interesting enough to draw the reader in and make them want to click on the content you're promoting. Posing a question or fact is a good way to do this. In the first image below, notice how the title is 'How good is your brand awareness?' and the rest of the content is the body of the post.
Personal and Company LinkedIn pages require a simple post.

In the 2nd image below (posted on behalf of SyncShow's company page), you'll notice there is just a post, no title.
LinkedIn Group Post with Title: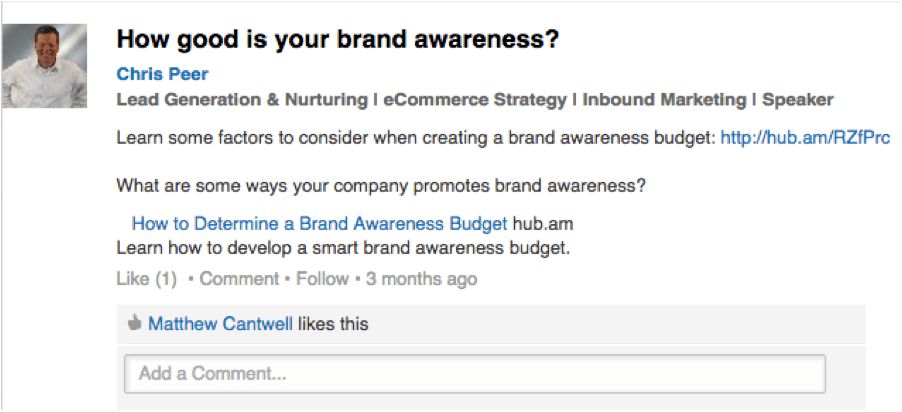 LinkedIn Company Page Post without Title:
Tips for Posting on Google+
Types of content to post: Videos, Whitepapers, Case Studies, and Images that show your company culture
Include images and video.
Include hashtags so your content is indexed with other relevant content. If you don't add them yourself, Google will automatically tag them for you.
Keep your post an appropriate length. It should be longer than a tweet, but short enough that readers will stay engaged and read your entire post.
Use bold or italics to draw your reader's attention to certain words
When is the Best Time to Post on Social Media?
It's a question we hear a lot, and the answer is there is no right answer. Scheduling on social media depends solely on whom you are trying to reach and what times they are most likely to be using the social media channel you're posting to. Think about what their typical day looks like. Maybe they work during the week and take a lunch break around noon when they are likely to browse Facebook and Twitter. Maybe they take the train home from work every night and are likely to catch up on social media during this commute.
After you publish a social post, HubSpot tracks the number of clicks and interactions it received. When you try posting at different times and days of the week, it's easy to see how your posts performed and how much engagement they got.
Do you have any tips or tricks you use when social publishing in HubSpot or scheduling social posts in general? Share them in the comments below!
For tips and advice on using the internet for lead generation, check out our eBook below:
Read another post by Danielle about posting on social media:
How to Write a Long-Form Post on LinkedIn