Buyers Products Company Keeps Roads Clear During the Winter Months with Snowplows and Salt Spreaders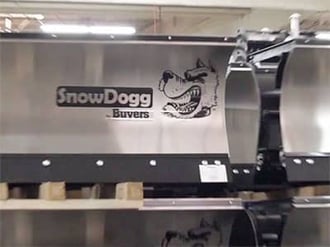 Buyers Products Company is the next featured company in the We Manufacture CLE video series. Located in Mentor, Ohio, this Cleveland company manufactures the snowplows and salt spreaders that you see driving down interstates 90, 271, 77, and across the country all winter long.
Buyers is a privately-held, fourth-generation family-owned company whose products are distributed both locally and around the globe. Buyers Products shapes aluminum, stainless steel, and steel into truck, trailer, towing, and snow and ice removal products that allow retailers, dealers, and distributors to carry domestically manufactured products at prices that are competitive with imports. Tradesmen in Northeast Ohio and around the country also rely on Buyers' manufacturing in order to get hard work done: from toolboxes and components for work trucks towing and dump-truck equipment, to snowplows and salt spreaders that keep roads and parking lots safe and usable.
Background Information
Established in 1946 by a brother and sister duo, Buyers Products Company was founded as a distributor of surplus truck and trailer components. Buyers quickly moved into its first home near Euclid and East 193rd, before relocating to Saint Clair to accommodate growth, and then eventually out to Mentor, Ohio. Buyers Products has grown to become a leading manufacturer of products for the mobile equipment industry. Today, Buyers' vertically-integrated manufacturing capabilities include heavy-duty forging, stamping, laser cutting, CNC machining, robotic welding, rotational molding, powder coating, rubber molding, assembly, and retail-oriented packaging.
WHY WE MANUFACTURE CLE?
Buyers employs over 500 people in Northeast Ohio. They source locally and have a network of partners from materials to logistics. "We enjoy the true grit and determination, and the sheer tenacity of the people of Cleveland." - Brian Smith, Chief Operating Officer
"People have a vision when they think about manufacturing. They picture a glowing steel billet being forged on a 4,000 ton press by two operators in uniform. They picture rows of welding stations with attendants and robotics arms mixing a skilled art with a precise science. They picture automotive parts packed and palletized to supply mom and pop shops around the country. They picture diamond-tread aluminum being laser-cut and assembled to create boxes for holding worksite tools and equipment. When people picture what it mean to be a manufacturer in Northeast Ohio, they are picturing Buyers Products Company."
- Andrew Saltzman, Buyers Products Company
At the heart of Buyers Products Company lies its philosophy to improve its customers' profitability and productivity, while enhancing the quality of its products and services.