Cleveland Innerbelt Bridge Project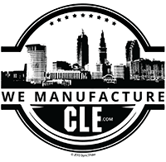 Profile Grinding, Inc. is the next featured company in the We Manufacture CLE video series. Profile Grinding serves its customer, Trumbull-Great Lakes-Ruhlin, Joint Venture by precision grinding locating pins used in the Cleveland Innerbelt Bridge project. The general public can not only experience the bridge by sight, but know that multiple companies have contributed to their safety while traveling upon it.
Background Information
Located in Cleveland since 1945, Profile Grinding specializes in precision grinding very small to medium sized parts from an array of materials, serving individual start-ups, Fortune 500 clients, and companies in between. Profile Grinding serves companies in the hydraulics, automation, and durable goods industries.
WHY WE MANUFACTURE CLE?
Along with centerless grinding the ODs of locating pins used in the Innerbelt Bridge project, Profile Grinding works with a variety of clients to produce components used in parts for products ranging from self propelled lawn mowers to medical instruments. This manufacturer also utilizes many vendors within the Cleveland area to source raw materials, material treatments, and tooling.