Business owners and marketers around the world brag about their website being listed on the first page of a keyword or key-phrase results page, and for good reason.
Everyone wants the coveted first page listing in Google or Yahoo; often competing with hundreds-of-thousands or millions of competitors for the top spots. Getting to the first page can be moderately difficult to impossible. A number of variables have to be met including website technologies and content strategies. However, the benefits of being listed on the first page are staggering.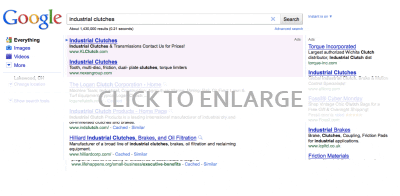 In the screen shot above I searched Google for the term "industrial clutches". Note, that this key-phase is very broad, meaning it does not include a geographic location or specific keyword that would narrow the search. Just below the search box you can see that there are over 1,430,000 results. The Logan Clutch Corporation is listed as the number one organic listing and they have been for over three years.
What the statistics show:
The first ranking position in the search results receives 42.25% of all click-through traffic
The second position receives 11.94%, the third 8.47%, the fourth 6.05%, and all others are under 5%
The first ten results received 89.71% of all click-through traffic, the next 10 results (normally listed on the second page of results) received 4.37%, the third page – 2.42%, and the fifth – 1.07%. All other pages of results received less than 1% of total search traffic clicks.
Source: http://guides.seomoz.org/chapter-2-how-people-interact-with-search-engines
The Benefits
To prove the extreme effects of a first page ranking lets compare a #1 ranking to a #7 ranking (both on the first page). A #1 ranking will drive 10 times more traffic to your website than an #7 ranking.
Company XYZ is currently ranked #7 on a Google search for their target key-phrase. XYZ is a company manufactures and sells widgets. They know that for every 1000 visitors they get to the website they make a sale worth $5000.00. XYZ Company attracts approximately 5000 visitors to their website each month, resulting in 5 new sales every month or $25,000.00. If their ranking moves up to the #1 spot they will experience 50,000 visitors a month and land 45 additional sales or a whopping $225,000 each and every month.
Congratulations!
In addition to Logan Clutch referenced above, SyncShow Interactive is proud of our customer successes and and would like to congratulate three of our customers listed below for their 1st page Google rankings.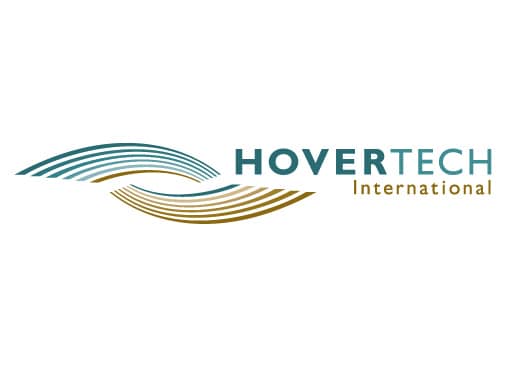 HoverTech International: HoverTech has the 2nd, 3rd and 4th place listings!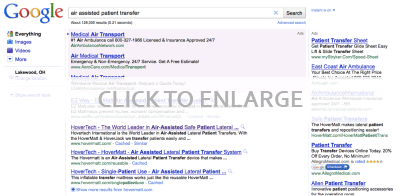 The Todd Organization: #2 out of 11,500,000 results!