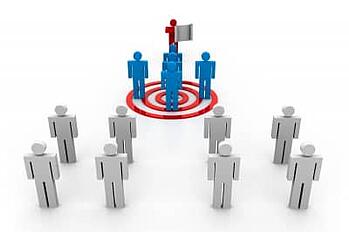 You know that your product is the best on the market, better than your competitors, and you might even have a message ready - but how do you ensure the right ears hear it? Targeting your proposition to local businesses and consumers helps you automatically cut through the "marketing clutter" on television, billboards and other wide-band advertising styles to get to the heart of your demographic. The trick is doing so skillfully, as a misstep with your local audience is a much broader stumble than you'd experience with nationwide campaigns; discretion, succinct statements and timing are the best tools in your arsenal when it comes to approach, but your selected venues are equally, if not more, important. Here are a few tips to guide you when it comes to steering your Inbound Marketing message to locals:
Where Are Your Customers?
This is a question that should be taken literally when it comes to crafting the beginnings of your geo-targeted Inbound Marketing message. Look at your existing customers and plot them, either roughly or individually, on a local map to figure out where your highest concentration of business is. Depending on your product or service, this area can either be marked as saturated - e.g. you've exhausted your prospects there - or as extremely fertile for perpetual business. Take this approach and expand it to find the three best towns or metro areas located around your business to target - these are the geographical names you'll need to attach to your Inbound Marketing messages to make them more appealing to locals.
TIP: Remember, when a potential customer in Seattle is looking for a plumbing service online, they're far more likely to type in "Seattle Emergency Plumber" in a search engine than they are "Emergency Plumber" - a plumber that's located in Chicago won't be of much use!
Be In The Moment
News travels fast, which is doubly true in the age of the internet. If you own a glass cutting business and a bad storm has or is due to hit your neighborhood, putting the word out on a fast-paced social media network like Twitter will help you connect with your customers as they need you. Responding directly to customers with a need your product can fill is another way to spread the word locally, especially if the names of your targeted neighborhoods are worked into the message.
TIP: Back up your messages with solid, readily-available information on your website. Coaxing a customer to a site that doesn't post easily-located hours, directions or a list of products/services will leave them confused or more likely to use another provider.
Name Drop in Narratives
If you have blogs or "storytelling" style Inbound Marketing content, don't be afraid to drop some local references in order to assure your customers you're "one of them." If your product has a vendor presence at a large annual event held locally, use your vendors as a case study, complete with pictures. If you've had local celebrities drop by or endorse your product, be sure to take advantage of the Inbound Marketing opportunity by incorporating the meeting into your ads. Remind your audience that you've been proudly serving your local area for however many years you've been in business, and emphasize your roots whenever possible.
TIP: Just because your business has been in the same place or serving the same community for a number of years doesn't mean your message should go stale. Be sure to mix up your tag lines, marketing messages and other frequently-used content to avoid being shuffled into the "seen it" category in the minds of your local customers.
Check out another great geolocation post from our archives: How Geolocation Can Improve Your eCommerce Sales