I can't tell you how many times I've heard from sales leaders that transportation and logistics is a relationship industry, and deals are closed based on referrals and face-to-face meetings. If you're living that life, then you're inherently limiting the growth of your business to the number of good salespeople you can hire.
Those meetings and referrals are absolutely important, but it's very likely that your customers are going to know something about you before they ever accept a meeting. Customers are information hunters, tuned in to industry trades, following influencers on LinkedIn and working with industry associations to vet trusted partners. So it's time to change and make sure your sales and marketing teams are collectively working together to bring in and close quality deals. Here are four trends we're seeing that will help you get to that point.
1. Sales and Marketing? Hello, Revenue Team!
According to a LeanData survey of 2,462 business-to-business (B2B) sales and marketing professionals, 37% of companies do not believe that sales and marketing are properly aligned, and are often at odds over who is responsible for revenue growth (or to blame for revenue shortfalls).
Egos aside, both teams are essential to opportunities for revenue growth: marketing for creating an environment and a digital presence that can generate quality opportunities, and sales for creating the relationships and closing deals with your customers that bring revenue in-house.
Have you ever reconsidered your organizational structure and key performance indicators (KPIs) to bring your sales and marketing teams together? If you do, you won't be alone. You'll join the more than 50% of companies that plan to merge sales and marketing operations into a single revenue team in the next few years.
2. Get Invested With Data and Automation
Transportation and logistics professionals are quickly embracing the data revolution, and a CRM (customer relationship management) tool like HubSpot or Salesforce is the key for your revenue team to understand what's working. When done well, a CRM will allow you to keep track of your prospects and customers and see:
How long it takes them to progress through deal stages (and possibly more importantly where they drop off)
The revenue you generate from them
The data you gather from this can allow you to understand how you're performing across your sales cycle and improve your sales process. Further, the contact information stored there will be the basis of your marketing automation as you use that information to segment customers. This is essential to creating unique opportunities to communicate meaningfully with them as they work through your process.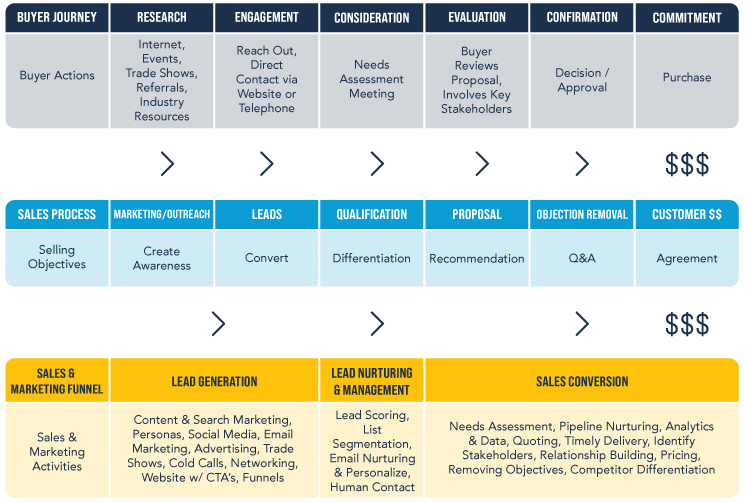 3. Provide the Bait for Your Prospect Hunters
In the past, sales teams needed to pound the pavement to hunt for potential customers, but looking for leads can now be a thing of the past.
Customers are well informed and do their due diligence online before purchasing a product or service. Even when they're not actively searching, transportation decision-makers receive 10-plus emails every day from shipping companies pitching their benefits, eight of which will never get read.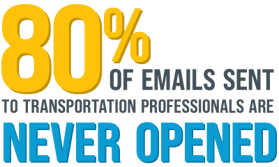 It's time to stand out from the crowd by improving your presence online via blogs and social networks so that potential customers can begin to develop trust for your brand, products and services. If you're creating healthy and worthwhile content that answers the questions your customers are asking, and following best practices for SEO (search engine optimization), then you're helping buyers know that you're the expert when it's time to purchase.
Marketing teams, don't forget to check in with your sales counterparts to understand what kinds of questions they're getting from prospects as they work through their funnel. This is often great insight into the type of content you need to write towards.
4. It's All Mobile ... Kind Of
Transportation and logistics online traffic is still predominantly desktop-focused. For now, quoting, research and executing is occurring 70% on a desktop environment, but as younger folks enter the workforce and mobile adoption (hovering around 55% of total internet traffic) continues to increase, we expect that to flip.
Across our customers, we see continued increases in mobile traffic, and even more so, search behavior is mobile-focused, with 60% of searches occurring on mobile. Google recently announced that it is primarily focused on mobile performance. Does your blog read well on mobile devices? Is your website or blog built with responsive design? How quickly does it load on a 4G device? Keep these items front and center when working on your digital marketing strategy and decide where to allocate budget as this is a worthwhile investment.
Are you interested in learning more about the correlation between your digital sales and marketing efforts? Contact us today. As a full-service online marketing agency, we provide a wide range of B2B online marketing services to fulfill your company's needs. This includes lead management, which ensures your sales team is equipped with data that will better help them target leads and convert those leads into sales.