If you're operating in the B2B sphere, you can't afford to underestimate the power of revenue-focused digital marketing. The right B2B marketing strategy can make all the difference to your company, helping with everything from brand awareness to lead generation and customer retention, too. If your company needs a hand with digital marketing, as most companies do, we're ready to help.
Founded in 2002 and based in Ohio, SyncShow is one of the most experienced and trusted firms in the B2B digital marketing services space. Over the years, we've helped countless clients transform their approach to marketing and messaging, with measurable success and proven results.
But you don't have to take our word for it. Let's take a look at what one of our most recent clients had to say about our B2B digital marketing services over on Clutch, an established B2B reviews platform that helps firms across the globe connect with the solution providers that they need in order to improve effectiveness and increase productivity.
Five Star B2B Digital Marketing Service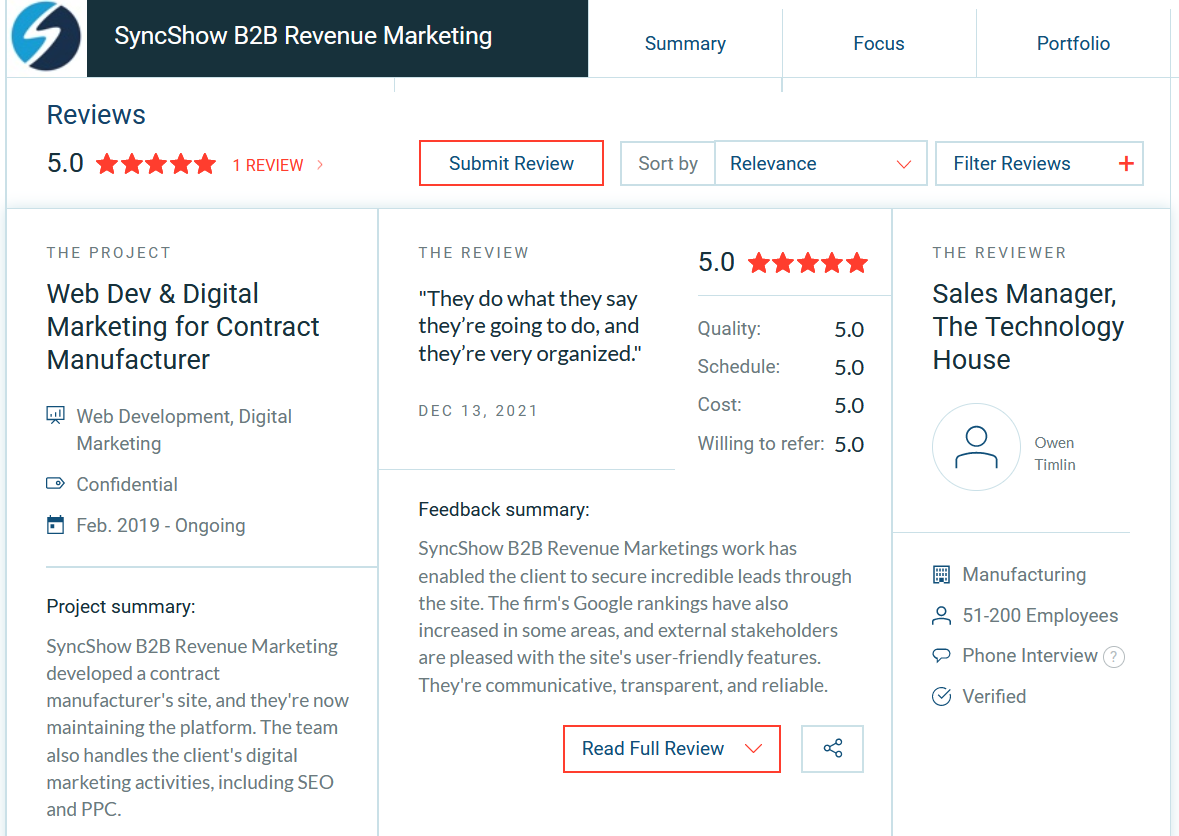 Our Clutch profile started off with a perfect score after this 5-star review from The Technology House, a contract manufacturer specializing in additive manufacturing. The Technology House needed SyncShow to carry out a range of digital marketing services, including a total website overhaul and the development of SEO and PPC campaigns.
We listened to the client's needs and got to work putting together a plan of action, before implementing our strategy in a timely fashion. We gave the client a full new site, took control of their SEO and PPC campaigns, and handled the development of new social media strategies, too, helping the client with lead generation and Google ranking performance.
"They do what they say they're going to do, and they're very organized. Overall, I can't say enough good things about them." - Sales Manager, The Technology House
It's so rewarding to receive such high praise from one of our clients, and reviews like this are so valuable for us in terms of evaluating our performance and motivating the whole team to keep on performing at the highest level.
In addition, we're proud to announce that SyncShow has also ranked highly in the list of digital marketing companies on Top Design Firms. If you're unfamiliar, Top Design Firms is a top resource for buyers looking to find top designers, marketing companies, and developers that specialize in various industries.
If you're in need of B2B digital marketing services, searching for a strategy-first approach that can provide measurable ROI and wanting to work with a proven, verified brand, we're waiting to hear from you. Get in touch today and let's talk.