A Simple Website Experience for Your Prospects
Optimized website usability should lead to a positive user experience as these are two of the most important components of any website. In order for any manufacturing company to increase lead generation, sales pipeline, ROI, and overall company wealth, each website must be fully optimized.
The Purpose of a Website
The sole point of having a digital presence on the Internet is to drive leads. If your website is not currently optimized in order to funnel your potential buyers through the buyer's journey, transferring each prospect into a loyal customer, you are not using digital marketing to its full capability.
Usually, companies with strong website structures sell more products or services than companies with poor or complicated sites. Users look for sites with easy navigation and usability. Below are five main steps to creating a website that users will not leave that page.
1. Strong User Interface
Let's start with some simple definitions. Website usability is simply how easily your buyer can navigate through your site, find the information they are looking for, and decide to become a customer. Strong user interfaces are clear, consistent, and concise. Brand recognition is a key aspect of allowing your prospect in to become familiar with your business and decide to make their first purchase.
On one of my last email newsletter sends, 51% of my sends opened on desktop and the other 49% opened the email on a mobile device. With that being said, all websites must be mobile friendly for increased lead generation!
2. Navigation Usability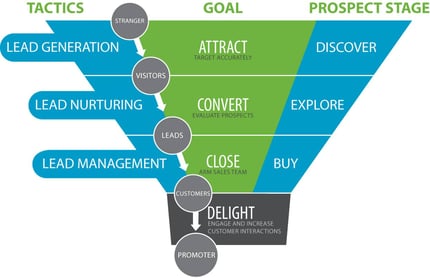 An easy to navigate website is critical to pulling your prospects through their buyer's journey. Clear navigation begins with giving your user the best experience possible on your website by allowing them to navigate the main navigation menu easily so they can find what they need. A few website navigation items to allows include are: home, services/products, about us, work experiences, contact us, and a blog, or what we like to call an area for "industry expertise" or "thought leadership".
3. Search Functionality
Did you know that websites with too many layers scare your customers away? For example, let's say that a prospect arrives on your website after conducting a Google Search for a specific part in which they need to complete their manufacturing product line. A website that is not completely optimized may force the user to click 5-6 times in the menu or search in the search section to find the part they are looking for. Bad navigation means aggravated customers.
They should have been able to find the part in the main navigation under "services/products". When a prospect leaves your site suddenly because they cannot find what they are looking for in a matter of seconds, marketers categorize this as a bounce rate. According to Google Analytics, a bounce rate "is the percentage of single-page sessions (i.e. sessions in which the person left your site from the entrance page without interacting with the page)." The goal is to decrease bounce rate at all times.
4. Images & Videos to Support and Enhance Content
We know that a pictures says a thousand words and content writing has the same effect. Not only does all content writing on each page of every manufacturing website have to be professional, but content should speak the language of your target audience and so do the images and videos on each website page. Oftentimes, images and videos fall through the cracks because they do not seem as important as the text describing each product or service of your company. But in reality, about 65% of the population are visual learners. Your website should include images and videos that your customers can relate to, learn from, and find useful.
5. Fast Loading Web Pages
According to Google, site speed is important from both a website usability standpoint and a Search Engine Optimization (SEO) perspective, as well. In other words, faster website speed equals two things:
Your website will be higher in search rankings on sites like Google and Bing
Your prospects are more likely to convert into customers
Today, website design is imperative to selling products and services in any market of all industries.

Do you have any website usability tips to add to the information above? Please share your thoughts with us in the comments below!