What's the first thing people see when they search for your business? Is it your logo? Your website? Maybe they found you through a social post?
The way you design and present your business is the first greeting a potential prospect will receive. After all, 94% of all first impressions of your website are design-related.
Think of your website as a greeting card. If it doesn't properly display what your company is all about, you will lose a potential customer. Simply put, bad design can be costly and ruin the customer experience.
Consider the following three phases of the HubSpot buyer's journey and take time to apply your expertise to each of these for your target prospect to ensure you come out ahead.

The buyer is doing a lot of research for their problem or opportunity, which means they're likely seeing many businesses that could help them. How is your team helping your company stand out from the crowd?
Unique content is what's going to set you apart from the rest, but having information-rich content is not going to be enough to drive leads and encourage people to convert. Articles with images get 94% more views than articles without since people will judge the quality of the content based on the image. You want your brand to exude quality, and having well-designed content and imagery can help.
Getting users to read your content will help them form a positive opinion about your business and give them reassurance you are the right fit for them—all of which creates better chances of driving quality leads and conversions.
A well-built web presence will also help set you apart, so much that you only have about 50 milliseconds to make a good first impression with a new site visitor. Without a well-thought-out design, you will lose potential customers before they have a chance to see what you offer. When a potential customer interacts with your site, it should be a compelling user experience.
Designed Content Can Drive Leads
During a customer's journey, you must create conversion points/offers. Offers are information-rich pieces your buyers find valuable enough to draw them further through the buyer's journey. Content such as ebooks, whitepapers and case studies are tactics that can be used to drive ROI and leads, while also positioning your company as a thought leader.
People are likely only to remember 10% of the information they read three days later, but when that information is paired with a relevant image, they're likely to retain 65% of that information. This shows that to make your content memorable to your prospects, design and imagery needs to be well branded and relevant to the user.
Having well-designed tactics can help make your business more visually appealing and create trust, which will help drive conversions and ROI.
You can have the best content out there, but if it doesn't appeal to your potential buyers, they may skip past it. Your content needs to be unique, not only in substance but also visually.
Every offer should have:
a cover page with your logo
enticing imagery or graphics
legible typography
visual hierarchy
an engaging layout
Following these guidelines can take an offer from boring to head-turning. Good design communicates to your customers that you are trustworthy and memorable. Your customers will be intrigued to download your content and move forward with your business. Take a look at the two offers below.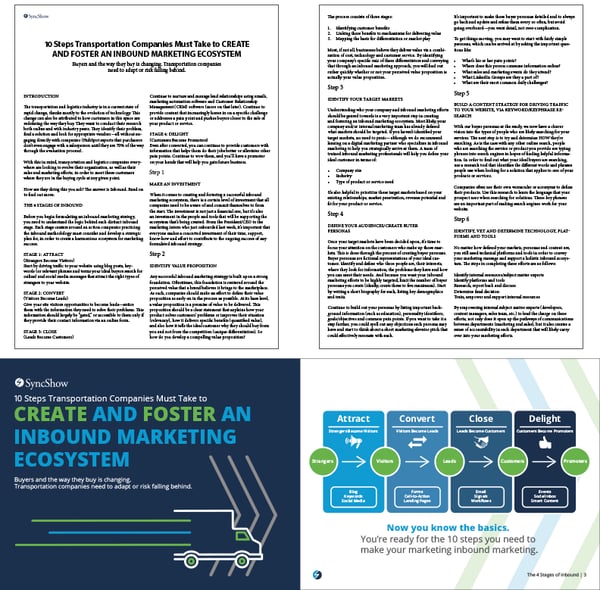 Which one are you more interested in reading? These are both the same offer, but the first one has no imagery or color, the text is tight and difficult to read and, at first glance, it's hard to tell who this is from.
The second one has color and imagery to bring life into the content, the text has more spacing around it and between lines for greater legibility and it's a lot easier to tell who this is from. This all works together to create a great customer experience. When you create a great customer experience, website visitors are more apt to engage and convert into leads, increasing your marketing ROI.
Why Web Design Matters
Your content is what's guiding the user through their buyer journey, but your website and all of its assets are what's going to help keep them interested. When finding your content, your website is the first thing the user will see. Whether it's through a landing page, the home page, resource center or even the blog, your website needs to be ready to help convert.
Thirty-eight percent of users will stop engaging with a website if the content or layout is unattractive. Making sure every page of your website is designed to help keep users on the page and make their experience enjoyable will help establish your credibility.
About 75% of users admit that they judge a company's credibility based on their website design. Without credibility, it's difficult to drive quality leads.
If you were to land on the landing page below, would you want to fill out the form?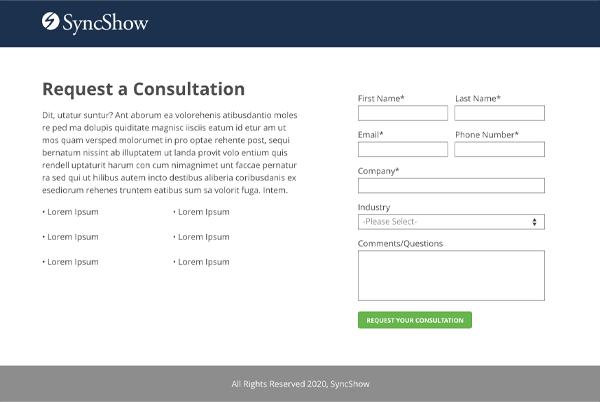 A poorly designed web page creates a negative customer experience and could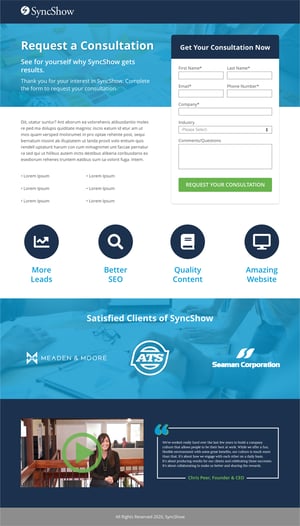 be detracting prospects from even getting your content in the first place. If prospects don't feel that your website or web page is credible, they likely don't believe you are credible.
To gain credibility with the user, a good landing page, or any web page, should follow some of the same design aspects previously mentioned (e.g., enticing imagery and graphics, visual hierarchy, legible typography, interesting layout).
Applying some basic design principles and some trust factors like testimonials and client logos, creates a reliable, consistent experience for the user. It helps show that your business is high-quality, trustworthy and on-brand. This makes them far more likely to fill out the form and become a lead.
Overall, If you're not perceived as credible, trustworthy or high-quality through your content and web design, prospects are not going to believe you are those things, no matter how hard you try in other ways. And, missing out on those potential prospects can be a huge loss for your business. Maintaining a well-designed content and online presence can ensure your prospect stays on their buyer's journey and converts with your business.