Lead nurturing can be one of the most important aspects of any strategic marketing plan. Lead capture allows you to keep track of any visitor or viewer who accesses your content.
There are strategic ways to capture a viewer's information so you can track the lifecycle stage from when they first landed on your content up until they become a buyer. Tracking the lifecycle of a lead allows you to decipher the viewer's decision-making process and grow your database of contacts.
According to a Genius.com study, 66% of buyers indicate that "consistent and relevant communication provided by both sales and marketing organizations" is a key influence in choosing a solution provider. An all-around marketing platform that can streamline your lead nurturing efforts will make an exponential improvement in your conversion rate.
HubSpot is an all-around marketing integration tool that allows you to track lead information from all of your content on your websites. HubSpot can pull data of viewers and streamline them into lists and create organized reports. Being able to have all of your leads in one condensed spot is great, although HubSpot helps you take it a few steps further.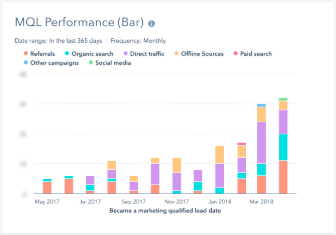 HubSpot makes it easy and efficient to create different lead capturing elements on your content, including:
Calls-to-Action (CTAs): CTAs are clickable buttons on your content that link to other relatable pages on your website.
Forms: For a viewer to access more information, they will leave their contact information to be contacted.
Gated Case Studies: To access the case study, a viewer will have to leave basic information (name, email, etc.)
Lead Management in HubSpot
Once a contact completes one of these action items, they can then be filtered into the pool of contacts in your account. Contacts can still be entered into the system manually, although these are very common and highly effective ways to gain lead information. All of your leads can be accessed under the "contacts" tab in the top left portion of the navigation bar on HubSpot.
From the contacts tab, you can manage and organize all of your leads to whichever way best suits you. HubSpot is extremely customizable to how you like to work and strategize. Once you are on the main contact page, you will be able to see all of your potential leads organized by the name, email address and time they were recorded in the contacts.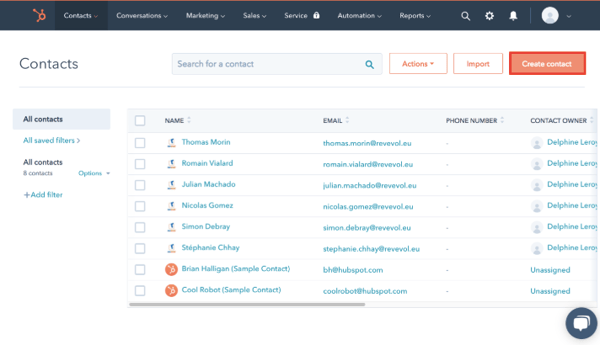 By clicking on the "actions" button in the navigation on this page, you can rearrange and organize these columns that make the most sense with your organization. A helpful metric I continue to add in with my columns is the "First Conversion Date." By having the first conversion date populated, you can easily track the lifecycle of the leads. From here, you can customize and add this to your information by typing it into the search properties. It will then populate on the right-hand side where you can view all of your selected columns.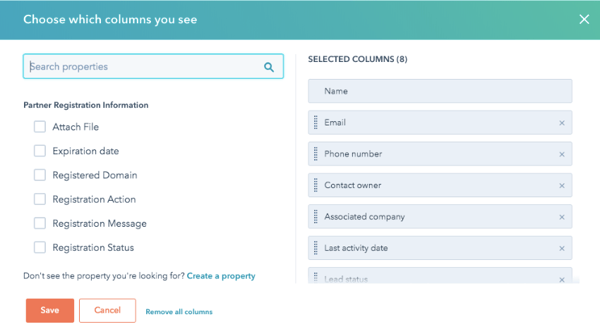 Lead Qualifying (MQL vs. SQL)
Believe it or not, this is only the start of all of the capabilities packed into this robust tool! Once you have your leads populated into HubSpot, it is time to qualify them and differentiate between the two main lead groups. Here are HubSpot's definitions of these leads:
Marketing Qualified Lead (MQL): Contacts who engage with your marketing material but are not ready for any sales initiatives or calls
Sales Qualified Lead (SQL): Contacts who have taken actions that express their interest in becoming a customer and are ready to be contacted
Differentiating the difference between the two will help you further understand which stage the viewer is in. MQLs are often going to be in the consideration stage, where they are trying to learn more about you as a company and what you offer.
SQLs are in the decision stage of their buying journey and are deciding if they want to move forward with learning more or purchasing the product or service your company is offering.
Tracking Leads Month to Month
After your lead lists are built out, it is important to stay consistent with monitoring them. By using the monthly monitoring plan, you will be able to visibly see how a lead can move from one lifecycle stage to another. A way to do this is by developing monthly lists to view your leads in the most efficient way possible. You can do this by cloning the month's prior list and just updating the date to reflect that current month.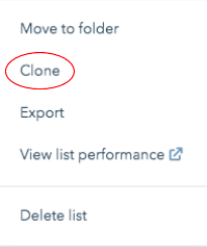 Creating a monthly list will help with your reporting efforts as well as staying organized and strategic throughout the entire year.
Workflows in HubSpot
One of the final and most important aspects of the lead nurturing process is continually monitoring your new contacts. HubSpot makes this easy by giving you the ability to create workflows that automate outreach to all of your current leads no matter what lifecycle stage they are in. By creating a workflow, you can choose which contacts receive what content and when. You can even go as far as inserting breaks in your workflow process to make sure leads are not being bombarded with content and are receiving information on a well-timed strategic basis.
You can access the workflow builder in HubSpot in the top right corner of the navigation bar. From here, you can start to build your own custom workflow tailored to your process. HubSpot allows you to build the workflow from scratch or use one of their already existing templates to follow. Another great benefit HubSpot provides is having options for you to differentiate where your leads can go based on where they are in their lifecycle.
HubSpot gives you the option of:
Setting the lifecycle stage to MQL
Assigning new web leads—rotate leads that come in from form submissions
Re-engaging leads—create tasks to re-engage leads that have not been contacted in 30 days

Workflows are an insured way to measure engagement with your enrolled contacts and to make sure you never lose out on an opportunity! Nurturing leads with HubSpot is easier than ever and streamlines all of your efforts to ensure you are following up with your contacts.
Happy lead nurturing!